Opening Hours
Surgery Hours
Day

Starcross Surgery

Exminster Surgery

Monday
8.30am - 6.00pm
8.30am - 6.00pm
Tuesday
8.30am - 6.00pm
8.30am - 6.00pm
Wednesday
8.30am - 6.00pm
8.30am - 6.00pm
Thursday
8.30am - 6.00pm
8.30am - 6.00pm
Friday
8.30am - 6.00pm
8.30am - 6.00pm

Saturday
(on a rota basis)

9.00am - 5.00pm

Enhanced Access
 

9.00am - 5.00pm

Enhanced Access
 
The following timetables are subject to change due to annual leave and issues beyond our control
Doctors Timetable - Starcross
Day
Morning
Afternoon
Monday

Dr Toh Wong
Dr Will Tomlinson
Alex (Paramedic)

Dr Toh Wong
Dr Will Tomlinson
Alex (Paramedic)

Tuesday

Dr Will Tomlinson
Dr Ben Morgan

Dr Will Tomlinson
Dr Ben Morgan

Wednesday

Dr Toh Wong
Dr Stephen Broome
Ben (Paramedic)

Dr Toh Wong
Ben (Paramedic)

Thursday

Dr Will Tomlinson
Dr Nimita Gandhi
Ben (Paramedic)

Friday

Dr Katrin Cole
Dr Stephen Broome
Foundation Year 2 (F2) doctor 

Dr Stephen Broome
Foundation Year 2 (F2) doctor
Doctors Timetable - Exminster
Day
Morning
Afternoon
Monday

Dr Stephen Broome
Dr Katrin Cole
Ben (Paramedic)

Dr Stephen Broome
Dr Katrin Cole
Ben (Paramedic)

Tuesday

Dr Nimita Gandhi
Dr Toh Wong
Foundation Year 2 (F2) doctor
Ben (Paramedic)

Dr Nimita Gandhi
Dr Toh Wong
Foundation Year 2 (F2) doctor
Ben (Paramedic)

Wednesday

Dr Will Tomlinson
Dr Ben Morgan
Foundation Year 2 (F2) doctor
Alex (Paramedic)

Dr Stephen Broome
Dr Will Tomlinson
Alext (Paramedic)

Thursday

Dr Stephen Broome
Dr Katrin Cole
Foundation Year 2 (F2) doctor
Alex (Paramedic)

Dr Stephen Broome
Dr Nimita Gandhi
Foundation Year 2 (F2) doctor
Alex (Paramedic)

Friday

Dr Toh Wong
Dr Ben Morgan
Alex (Paramedic)

Dr Toh Wong
Dr Ben Morgan
Alex (Paramedic)
Enhanced Access

We're here for you evenings and weekends

Evening and weekend appointments are available at this GP practice or at an NHS service nearby - including your vaccinations, health checks and screenings.

To book appointments at these times, contact us.

Appointments (subject to availability) can be accessed by all patients registered with practices in our Primary Care Network.
These practices are: 
Cranbook Practice, Pinhoe Surgery, Broadclyst Surgery, Topsham Surgery, Glasshouse Medical Centre, Ide Lane Surgery, The Limes Surgery and Starcross Surgery.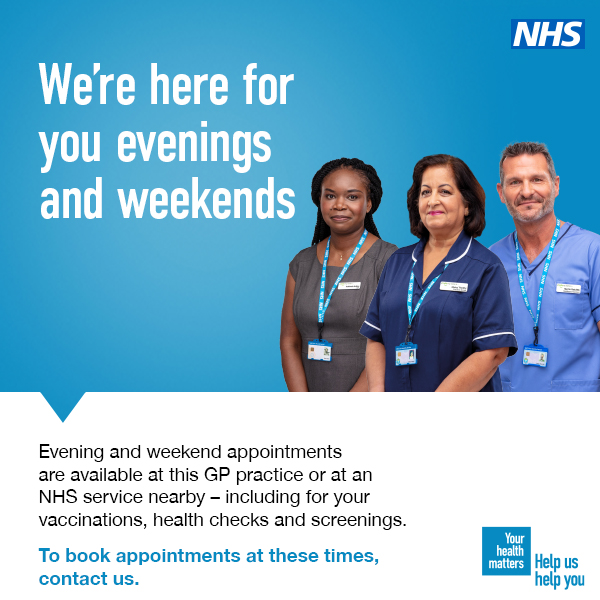 It would also be helpful, wherever possible, to notify the surgery by 6pm on a Friday if you are unable to attend a weekend appointment.
These appointments (subject to availability) are available Saturdays 9am-5pm and Monday – Friday 6.30pm-8pm (covered by PCN Practices listed above). Bank Holiday times may vary. Times may be subject to change.